Boomerang is a cable and satellite television channel owned by Turner Broadcasting, a unit of Time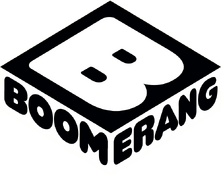 Warner and its main flagship regional channel of Cartoon Network. The Southeast Asian version of Boomerang was launched in September 2005 with a lineup very similar to that of the US version. It started previously as a programming block on Cartoon Network from 2001 to 2005 during weeknights. It uses the same voice overs from Boomerang Australia.
In December 2012, the channel was replaced by Toonami. However, Boomerang was relaunched in Asia on January 1, 2015, with a new look and as part of the Boomerang's global rebrand for 2015. The channel replaced the Cartoonito Asian feed.
Television carriage
Edit
Since its introduction in Asia on September 27 , 2001, Boomerang is available on Now TV in Hong Kong and also shown on Cable TV Hong Kong in Spring 2006. In January 2006, Boomerang went on air in Thailand on PSN. In March 2006,SkyCable started to show Boomerang in the Philippines, but it was only available on the Platinum Package. InSingapore, the channel will be available in High Definition on StarHub TV Channel 317 from January 1, 2015. InIndonesia, the channel is currently available on Indovision, First Media, Aora TV starting August 7, 2008 and Groovia TV starting August 7, 2011. In India, Boomerang was exclusively available on Dish TV until March 2, 2009. Now it's available on IN Digital Cable from the Hinduja Group.[2] & it is also available in 7 Star Cable Mumbai (in some areas). In Sri Lanka, Boomerang is exclusively available on Dialog TV. In Taiwan, the channel is currently available on Dish HD Asia starting June 2010 in High Definition.
Programming
Edit
Current programming
Edit
Baby Looney Tunes (1 January 2015 – present)
Ben 10 (1 January 2015 – present)
Camp Lazlo (1 January 2015 – present)
Care Bears: Welcome to Care-a-Lot (1 January 2015 – present)
Doozers (5 January 2015 – present)
Foster's Home for Imaginary Friends (1 January 2015 – present)
The Garfield Show (1 January 2015 – present)
Inspector Gadget (5 January 2015 – present)
Jimmy Two-Shoes (1 January 2015 – present)
Krypto the Superdog (1 January 2015 – present)
The Looney Tunes Show (3 January 2015 – present)
The Marvelous Misadventures of Flapjack (1 January 2015 – present)
My Gym Partner's a Monkey (1 January 2015 – present)
My Little Pony: Friendship is Magic (1 January 2015 – present)
Pink Panther and Pals (1 January 2015 – present)
The Powerpuff Girls (1 January 2015 – present)
Scooby-Doo! Mystery Incorporated (1 January 2015 – present)
Shaun the Sheep (1 January 2015 – present)
Strawberry Shortcake's Berry Bitty Adventures (1 January 2015 – present)
Tom and Jerry (1 January 2015 – present)
The Tom and Jerry Show (1 January 2015 – present)
Turbo F.A.S.T. (5 January 2015 – present)
What's New, Scooby-Doo? (1 January 2015 – present)
Upcoming programming
Edit
Be Cool, Scooby-Doo!
The Jungle Bunch: To The Rescue!
Mr. Bean: The Animated Series
My Talking Angela
Final Programming Blocks (from the 2005 era)
Edit
Good Morning, Scooby
Edit
This block is currently shown on Boomerang. Good Morning Scooby! continues for a selection of Scooby-Doo related shows along with other classic cartoon series from Hanna-Barbera.
Boomeraction
Edit
Boomeraction is a block which, as its name suggests, consists of classic action-oriented shows such as Jonny Quest, Birdman and the Galaxy Trio, Sealab 2020 and among others. Get a dose of timeless action-pack series on Weekdays at 5:00 PM.
Boom! Boom! Boom!
Edit
An unstoppable Weekend block with no commercial interruptions featuring all-time toon favorites starting at 7:00 AM.
Tiny TV began airing on March 1, 2010, and is currently shown from 9:00 AM – 2:00 PM on weekdays. Previously, the block aired babyfication versions of classic Warner Bros. and Hanna-Barbera cartoons such as The Flintstone Kids, Baby Looney Tunes, Tom & Jerry Kids and A Pup Named Scooby-Doo. Since then, it has also begun to show other toddler-themed cartoons such as Postman Pat and Care Bears: Adventures in Care-a-lot.
Boomerang Theatre
Edit
The full-length animated movie and specials is now showing on Boomerang on Saturdays at 9:00 PM.
Boomysteries
Edit
Boomysteries is a mystery-themed late night block on Weekends at 11:00 PM features the strangest but mysterious toon stories ever.
Boomeracers Boomeracers is a car-racing-themed programming block that aired Weekdays at 1:30 PM. Also transmitted in the US
Edit
The Zoo is an animal-themed programming block on Weekdays at 9:00 to 11:00 AM. As with Boomeracers, The Zoo was a spinoff of the Boomerang block of the same name, and has aired in the United Kingdom as well.
The Big Bucket
Edit
The Big Bucket is Boomerang's major marathon block. Started in June 2006, The Big Bucket features a 3 hour marathon of Boomerang's Character of the month.
Free Classic
Edit
Free Classic is Boomerang's cartoon classic block. Started in July 2007, Free Classic features a 5 hour cartoon classic of Boomerang's Character of the month
Former programming
Edit
2 Stupid Dogs
Alf: The Animated Series
A Pup Named Scooby-Doo
A Pup Named Scooby-Doo
Astro and the Space Mutts
Atom Ant
Atomic Betty
Augie Doggie and Doggie Daddy
Birdman and the Galaxy Trio
Captain Caveman and the Teen Angels
Captain Planet and the Planeteers
The Captain Planet Series
Casper and the Angels
Cave Kids
Challenge of the GoBots
Cow and Chicken
Dastardly and Muttley in their Flying Machines
Droopy: Master Detective
The Droopy Dog Show
Dumb and Dumber
Dynomutt, Dog Wonder
Ethelbert the Tiger
Fangface
Fantastic Four (1967)
Fantastic Max
Foofur
Frankenstein Jr. and The Impossibles
Hanna-Barbera's Cartoon Corral
Heathcliff and Marmaduke
Heathcliff and Dingbat
Help! It's the Hair Bear Bunch
Hokey Wolf
Hong Kong Phooey
Huckleberry Hound
Inch High, Private Eye
Jabberjaw
Jonny Quest
Josie and the Pussycats in Outer Space
Josie and the Pussycats
Laff-A-Lympics
Lippy the Lion & Hardy Har Har
Little Red Tractor
Looney Tunes
Loopy de Loop
Magilla Gorilla
Matt's Monsters
MGM
Mr. T
Monchhichis
Pac-Man
Paddington Bear
Paw Paws
Pixie & Dixie
Police Academy: The Animated Series
The Popeye Series
Postman Pat

Pound Puppies
Quick Draw McGraw
Richie Rich
Ricochet Rabbit and Droop-A-Long
Scooby-Doo, Where Are You?
Scooby-Doo and Scrappy-Doo
Sealab 2020
Secret Squirrel
Shirt Tales
Snagglepuss
Snooper and Blabber
Space Ghost
Speed Buggy
SWAT Kats
The Sylvester and Tweety Mysteries
The 13 Ghosts of Scooby-Doo
The Addams Family
The All-New Popeye Show
The New Scooby-Doo Mysteries
The Centurions
The Flintstone Kids
The Flintstones
The Funky Phantom
The Great Grape Ape Show
The Herculoids
The Jetsons
The Mysterious Cities Of Gold
The New Adventures of Captain Planet
The New Scooby-Doo Movies
The New Shmoo
The New Yogi Bear Show
The Pebbles and Bamm-Bamm Show
The Perils of Penelope Pitstop
The Peter Potamus Show
The Pink Panther Show
The Pirates of Dark Water
The Popeye Show
The Real Adventures of Jonny Quest
The Smurfs
The Snorks
The Super Globetrotters
The Yearling
Tom and Jerry Kids Show
Top Cat
Wacky Races
Wait Till Your Father Gets Home
Wally Gator
Yakky Doodle
Yogi's Gang
Yogi's Space Race
Yogi's Treasure Hunt
The Yogi Bear Series
Young Robin Hood
Yo Yogi!