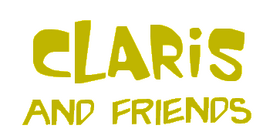 Claris and Friends was an French-British children's animated series produced by Gaumont Animation based off the Maggi mascot of the same name. It aired from August 13, 2005 to March 11, 2009. The series follows the adventures of Claris the Chicken and his friends.
At the peak of the cartoon's popularity, there were flash games and toys.
Characters
Edit
Name
Image
Bio
Claris

The main protagonist of the series. Claris is, as the title suggests, a Chicken, who has an European accent.

Voiced by: Rowan Atkinson

Bernie

One of Claris' friends. He likes to play bowling with Cleo.

Voiced by: William Roberts

Marc

One of Claris' friends. He likes to eat sandwiches.

Voiced by: William Roberts

Cleo

Cleo is the smart of Claris' friends. He is a nerdy, who has a strong love for science. He wears glasses.

Voiced by: Gary Martin

Suzie

Suzie is the glory of Claris' friends. She likes beauty.

Voiced by: Matilda Ziegler

Linda

Linda is the glory of the Claris' friends.

Voiced by: Helen Lederer
Name
Image
Bio
Mr. Cow

Mr. Cow is, as his name blatantly suggests, a cow. He is a bad genius, who always is coming up with ways to endure Claris the Chicken and his friends.

Voiced by: William Roberts

Jackie, Marty and Bob

Wolves, who are minions of Mr. Cow. the wolves display a degree of competence rarely associated with comic-relief lackeys, generally foiled by their adversaries' own luck.

Voiced by: Gary Martin
Supporting
Edit
Name
Image
Bio
Hammy

The pig, who befriends with Claris the Chicken. His best friend is Ollie the Duck.

Voiced by: Gary Martin

Ollie

A duck, who is Hammy the Pig's best friend.

Voiced by: Gary Martin
Rowan Atkinson as Claris
William Roberts as Bernie, Marc, additional voices
Gary Martin as Cleo, additional voices
Matilda Ziegler as Suzie
Helen Lederer as Linda
Broadcast
Edit
Claris and Friends premiered on Disney Channel in the United States on September 16, 2005. The English version later premiered on Boomerang on April 8, 2006. In Latin America, the series premiered on Discovery Kids on May 19, 2012 and YTV in Canada on June 15, 2013. In France, the show airs on Canal+ and TF1.
International
Edit
In Australia, it appeared on Nine Network from 2005 to 2011. It also appeared on The Seven Network in reruns.
In Russia, it aired on STS from September 9th, 2007 to January 12th, 2011, as well as Karusel from June 18th, 2012 to present.
A Spanish dub was also shown on TVE from 2006 to 2010.
Home Release
Edit
Walt Disney Home Video released all 54 episodes on DVD on December 19, 2009 under the title Claris and Friends: The Complete Series. In addition, it also features a special bonus disc filled with new & archival material.
Specials
Edit
The Christmas special consisted of two segments from the show, "A Christmas Wish" and "Once Upon in a Year". The special aired in primetime on Canal+ Family on December 30, 2007. It has been replayed on channels like Canal J and M6 during Christmas in recent years.