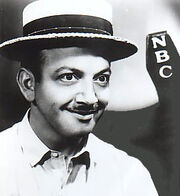 Melvin Jerome Blank (best known as Mel Blanc) (b. May 30th, 1908-d. July 10th, 1989) was an American voice actor best known for providing most of the Looney Tunes iconic characters. He is widely considered as "The Man of A Thousand Voices" as he voiced a wide variety of other cartoon characters during the "Golden Age of Hollywood Animation" (1930s-1960s). Woody Woodpecker, Barney Rubble, and Mr. Spacely are among the many non-Warner Brothers characters he voiced.
Ad blocker interference detected!
Wikia is a free-to-use site that makes money from advertising. We have a modified experience for viewers using ad blockers

Wikia is not accessible if you've made further modifications. Remove the custom ad blocker rule(s) and the page will load as expected.